Cillian Vallely & Ryan McGiver – Matinee Concert. Sunday, May 18, 2014
Don't miss the 3PM matinee show with Cillian Vallely (Uilleann Piper from Lunása) and Ryan McGiver (Guitar and Songs) at the D-Note in Olde Town Arvada!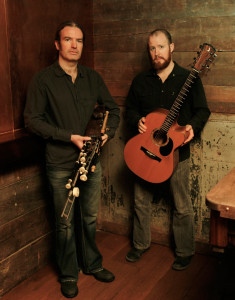 Date: Sunday, May 18, 2014
Time: 3:00 PM
Price:
Cillian and Ryan have been performing together with an eclectic mix of Irish traditional music and song. This is a rare chance to see them perform in the Colorado area. Since Sundays are a big day for Irish sessions in the Denver area, this show is scheduled for the afternoon, so that musicians can enjoy the show, and still make it out to the evening sessions. If you're interested in more music that evening, Cillian and Ryan will be having dinner at the Burns Pub in Broomfield, and then joining the regular session at 7PM.
CillianVallely.com
RyanMcGiver.com
You can make reservations for D-Note tickets with the form below. We will hold your space at the venue until 2:50 PM, but will sell to people at the door if you haven't arrived.
Are you coming?
Then RSVP below!